WELCOME TO MsCHIEFMAKER HAVEN
Hi, my name is Puck, and I am the cutest hamster that ever lived on this earth.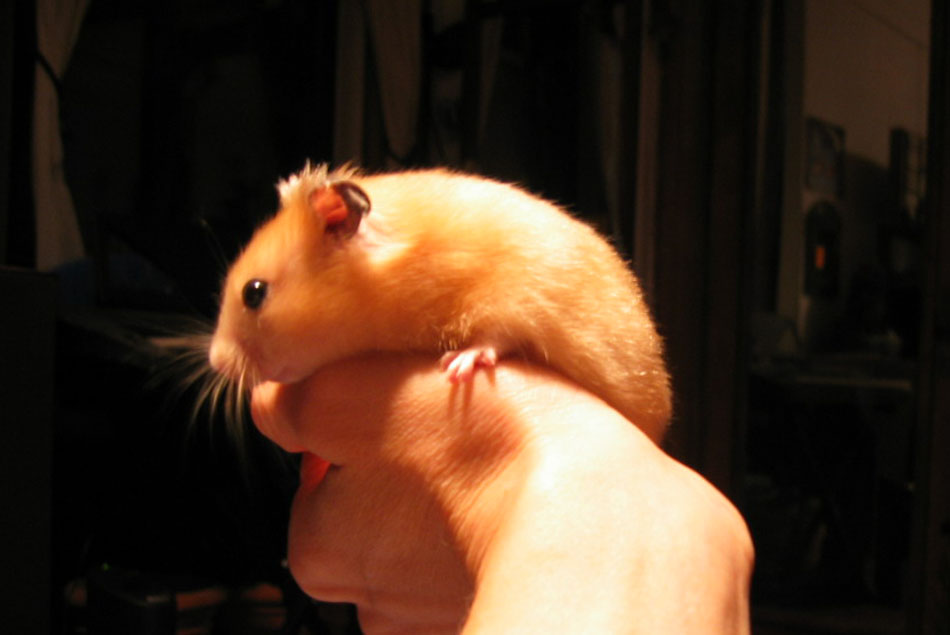 "Pan's Pipes" composed, performed and recorded by K*ren Biehl, copyright 2003 K*ren Biehl

This website is a tribute to all my small and furry friends in the rodent realm, including those running free in the wild, the dear ones you call "pets" (the truth is they really own you), those taking refuge in animal shelters and rescue centers, and the unfortunate innocents who are imprisoned in laboratories and pet stores for crimes they didn't commit. It is my hope that after viewing this site, you will see these beautiful creatures in their full glory, and realize their rightful place in the ladder of spiritual evolution (the correct order being humans - rodents - angels - God). Once this has happened - and once every glue trap is destroyed - mankind will be rewarded with leaders more capable of guiding our nations towards peace. The exterminators will be replaced with President Puck and his Pals.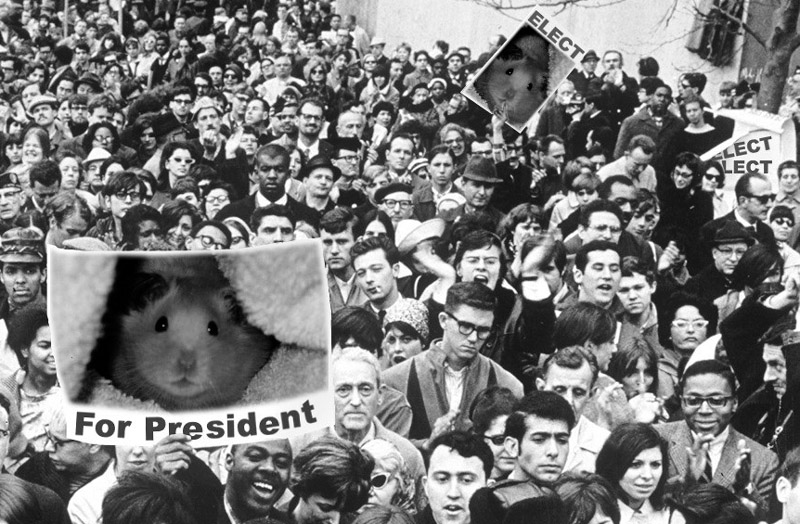 I have also developed this site to display the musical and theatrical works of MsChiefmaker Productions, of which I am founder and president. The music contained in this site was composed (unless otherwise specified), recorded and performed by the MsChiefmaker, also known as K*ren Biehl, under the guidance of her muses: Sirs Apollo, Aengus and Adonis, Maestro Nicolini, Maestro Tehuti Menuhin, and Prince Eli; the dearly departed Angels Tiresius Rex, Sir Prancelot, Sir Palahad, Sir Phoenix, Sir Pyke, Princess Phoebe, Princess Peaseblossom, and Princess Pleaides, and of course me, Puck, the King of MsChiefmaker Haven. My noble friends and I are also gracious enough to act as her models and performers, with a talent and beauty unmatched by any human who ever set foot on stage.
All material on this site is copyright protected (Copyright 2003 K*ren Biehl). If you attempt to claim it as your own, I will personally summon all my subjects in the mouse and rat kingdom to take up residence in your home.
Meet The Performers

Eli's Site List - Track the little model as he explores New York City
Eli's Press Page - Photos of Eli at dog events, competitions, benefits and socials

CURRENT ATTRACTIONS:

Eli's New Trick
Sneak Preview of Rudolph ValentEli's Silent Film Debut "A Love Story"
BowWowWee!: Starring Eli and his Playpals
In Memory of Sweet Puck
Paws: A Thriller, starring Peaseblossom and Pleiades
Pandora's Box: A Ballet, Starring Peaseblossom and Pleiades
Puck's Second Childhood: A Video of Puck's Return to his Childhood Home
Living On The Edge: A Thriller, Starring Palahad
Boys Will Be Boys: A Music Video, Starring Apollo and Palahad, with a review by Puck
I Want to Be Loved By You: Starring the beautiful Marilyn Monrodent in her MsChiefmaker Haven debut

WE INTERRUPT THIS BROADCAST FOR A SPECIAL PRESIDENTS DAY ANNOUNCEMENT FROM PUCK

Ode to Phoebe: A Love Sonnet, narrated by Phoenix
Ohne Dich: An Encore, performed by Phoenix
PAST ATTRACTIONS:

Hark, the Herald Angel Sings: Starring Eli
Eli's Thanksgiving Journey: Starring Sir Eli and the Knights of the Thanksgiving Table
Spiderween: Starring Aengus (with a cameo appearance by Apollo)
Happy Halloween: Eli Makes His Bat Debut
Happy Memorial Day, Navy Seal performed by Tehuti
Happy Thanksgiving from MsChiefmaker Haven
Scary Halloween: Starring The MsChiefmaker Haven Ghoulies
Happy July 4th: Featuring Puck
Memorial Day Message: Words of Wisdom from Apollo
Happy Mother's Day: Featuring the Lovely Phoebe
Happy Spring Message from MsChiefmaker Haven
Easter Greeting: From the Easter Puck Bunny
Happy Passover: Featuring your favorite model, Puck
April Fools Folly: Words of Wisdom from Puck
Happy Saint Patrick's Day Message from Puck
Groundhog Day Prediction by Peaseblossom
Happy Birthday, Mozart performed by Maestro Puck
Martin Luther King Day Message from Puck
Jingle Bells Puck: A Saint Nicholas Day Carol, performed by Puck
The Snow Lay on the Ground: A Christmas Carol, starring Peaseblossom, Pleiades and Puck
Rudolph: Starring our favorite dear, Puck
Joy to the World: Starring the MsChiefmaker Haven Angels
Happy Hanukkah: Featuring Palahad and Apollo
Glory to Puck: A Thanksgiving Oratorio in Two Parts, performed by Puck
Puck-A-Boo: A Special Halloween Greeting from Puck (with voiceover done by Pyke)
Gobblin' Goblins: A Dazzling Dance Performance by Peaseblossom and Pleiades


Contact: MsChiefmaker Haven Productions
Puck@MsChiefmakerHaven.com